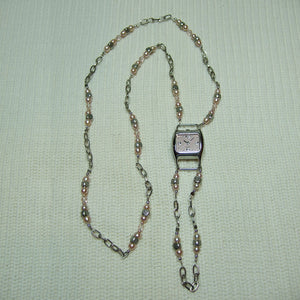 T-13 Pale pink and silver, lightweight and delicate.
Item number: T-13
Description:

For those of you who prefer something dainty and light, this watch neckpiece is just for you. The light pink
faux
pearls match the quartz watch face. To add interest, I used silver chain and beads with texture.  No clasp.
Weight:
1 ounce
Length:
26 inches + 3 inch drop 
---